22 Stunden Laufzeit: Die Apple Watch-Rezensionen sind da
Das Presse-Embargo ist gefallen, die ersten Rezensionen der Apple Watch fluten zur Stunde das Netz. Aus Deutschland melden sich der Spiegel und die BILD zu Wort – in Übersee ist Apple etwas breiter aufgestellt und lässt seine Armbanduhr sowohl vom Technik-Portal The Verge begutachten, als auch von der Walt Mossberg-Präsenz Re/code und freischaffenden Autoren wie dem Analysten Ben Bajarin.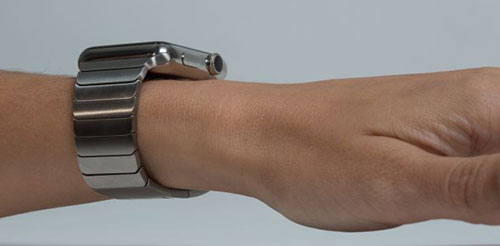 Wir haben Auszüge der ersten Pressestimmen für euch zusammengetragen, freuen uns, dass David Pogue noch immer mit am Ball ist und seine Bestandsaufnahme bei Yahoo zu Papier gebracht hat und machen einen verhalten positiven Gesamteindruck aus.
Die Reaktionen fallen durch die Bank weg positiv aus, loben die offensichtlichen Vorzüge der Uhr (Material, Verarbeitung, Interface) und kritisieren die offensichtlichen Eingeständnisse in Sachen Akku-Laufzeit und Preis, die interessierten Kunden abverlangt werden.
Sven Stein für BILD
Dazu prüft auch der integrierte Pulsmesser alle zehn Minuten meine Herzfrequenz. […] Im Test hält die Watch trotz häufiger Nutzung regelmäßig länger durch, kommt teilweise auf mehr als 22 Stunden Laufzeit. Danach schaltetet sie sich in einen Modus (Gangreserve), indem sie auf Knopfdruck nichts anderes mehr als die Uhrzeit anzeigte. […] Die Uhr ist eine tolle Ergänzung zum iPhone, aber auch eine extrem teure.
Matthias Kremp für den SPIEGEL
Ein fünfundvierzigminütiges Training mit Pulsmessung und Musik via Bluetooth-Headset saugt 17 Prozent der gespeicherten Energie aus dem Akku. Ein ebenso langes Training ohne Musik und mit einem Bluetooth-Pulsgurt anstelle des eingebauten Sensors benötigte nur sieben Prozent der Akkukapazität. Zudem zeigte sich, dass die Apple Watch nicht nur ihren eigenen, sondern auch den Akku des angeschlossenen iPhones belastet. Mein Apple-Handy musste während der Testwoche jedenfalls früher an die Steckdose als gewohnt.
GOOD STUFF: Easily the nicest smartwatch available. Platform has endless room to grow, especially with native apps. Taptic Engine is really cool.

BAD STUFF: Performance issues, especially with apps and location services. Notifications need way more granular settings. Much more expensive than other smartwatches. Animated emojis are nightmare fuel.
(Direkt-Link)
Lauren Goode für Re/Code
I also don't love the design of the inductive charging cable. It's too easy to accidentally disconnect the watch from the cable. I would rather have an inductive charging cradle like the one that comes with Moto 360 […] Apple Watch is not a cure-all, and it's likely not a timepiece you will pass down to your grandkids. It is a well-designed piece of technology that will go through a series of software updates, until one day, years from now, when the lithium ion battery can no longer hold much of a charge and it won't seem as valuable to you.
I found the digital crown to be dramatically more useful than I initially thought. I am so used to touch as an interface I thought there was no way I wanted to use the digital crown to navigate. But with the Apple Watch screen being smaller, you find your fingers get in the way of the screen as you are trying to read it. This is where the digital crown comes in handy. I found myself using the digital crown significantly more than touching the display.
David Pogue für Yahoo
You don't need one. Nobody needs a smartwatch. After all, it's something else to buy, care for, charge every night. It's another cable to pack and track. Your phone already serves most of its purposes. With the battery-life situation as it is, technology is just barely in place to make such a device usable at all.

In the end, therefore, the Apple Watch is, above all, a satisfying indulgence. It's a luxury. You might buy it to bring you pleasure—and it will—much the way you might buy a really nice car, some really nice clothes, or a really nice entree.
In fact, apps have been the biggest disappointment of my Apple Watch experience. Apple says more than 1,000 Watch apps have been submitted, but only about three dozen have been available to test. […] For now, the Apple Watch is for pioneers. I won't pay the $1,000 it would cost for the model I tested, only to see a significant improvement roll in before too long. But I plan to pay $400 for the 42mm Sport version once it's on sale. That's worth paying for a front-row seat for what's next in tech.
Joshua Topolsky für Bloomberg
So Apple has succeeded in its first big task with its watch. It made something that lives up to the company's reputation as an innovator and raised the bar for a whole new class of devices. Its second task—making me feel that I need this thing on my wrist every day—well, I'm not quite sure it's there yet. It's still another screen, another distraction, another way to disconnect, as much as it is the opposite. The Apple Watch is cool, it's beautiful, it's powerful, and it's easy to use. But it's not essential. Not yet.
Scott Stein für Cnet
You don't need an Apple Watch. In many ways, it's a toy: an amazing little do-it-all, a clever invention, a possibly time-saving companion, a wrist-worn assistant. It's also mostly a phone accessory for now.
Dieser Artikel enthält Affiliate-Links. Wer darüber einkauft unterstützt uns mit einem Teil des unveränderten Kaufpreises. Was ist das?